Muay Thai shorts have been making frequent appearances in the fashion world recently, and not everyone is happy about it.
Most notably, they appeared in Versace's Fall/Winter 2019 collection. Models strutted down the catwalk in what Versace called 'silk boxer shorts' paired with blazers.
It wasn't just models, though. Muay Thai fighters donned the shorts while sharing the catwalk with the likes of Imaan Hammam. One of them, Bampara Kouyate, has fought several times in Thailand and won a WMF title in 2017.
Versace isn't the only brand to have produced Muay Thai shorts for fashion. Guess followed suit with their Guess x J Balvin collection earlier this year. It includes 'Thai logo shorts' which are priced at $99 a pair.
Muay Thai shorts have been seen in Japanese fashion, too. Here are a few examples from TokyoFashion.com.
Japanese brand Nigo also released a range of Muay Thai shorts under the Human Made collection, which includes pockets. Pharrell Williams, who has collaborated with the brand, has been seen wearing them in several social media posts.
Other artists in the music industry have been sporting Muay Thai shorts, too. Missy Elliot was ahead of the game. Before any of this, she had her backup dancers wear Muay Thai shorts in the video for WTF (Where they From) in 2015 (spot them at 1:40). Last year, Janelle Monae also wore them in her music video for Pynk (at 2:56).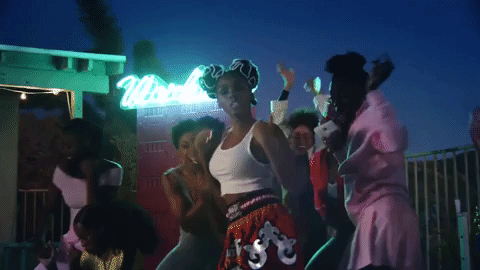 When Selena Gomez performed at a Bangkok concert in 2016, she wore a pair of Raja shorts onstage.
A viral video featuring rapper 6IX9INE also featured a woman wearing a pair of Muay Thai shorts on a shopping trip.
Muay Thai Fashion in Thailand
The act of using Muay Thai apparel for fashion hasn't just been committed by foreigners. It's happening in Thailand, too. Performers in Drag Race Thailand have been spotted wearing them on multiple occasions. First, Filipino contestant Jaja wore them for a beautiful boxer-inspired look in season 1.
In season 2, the show went a step further by having several contestants incorporate Muay Thai into their outfits for a music video, which involved a dance routine in the Asiatique ring on Bangkok's riverfront.
Then, Thai fashion stylist and editor Shun Watanabe used Muay Thai shorts in a shoot with drag superstar Pangina Heals. In these photos, G-strings peeked out from underneath the shorts.
Now, Muay Thai fashion is stretching beyond just shorts. The sport has also inspired a collection of jackets, t-shirts, bags and pants by Roots of Fight, a brand that 'celebrates the improbable achievements of today's most legendary athletes'.
The Response
Some of these garments have stirred up controversy with Muay Thai fans online. Commenters complained that by producing Muay Thai shorts for fashion, foreign designers are being disrespectful to the sport.
In response to an Instagram post by Versace, one user called it "cultural appropriation at its finest", adding that "as someone who wears these shorts to train in the martial art of Muay Thai", they found it "insulting and so disrespectful". Another said that Versace should at least name the shorts 'Thai boxing shorts' to "show some respect to the culture they got this idea from". They seemed to have overlooked the fact that Versace had real Muay Thai fighters wear them on the catwalk as a way of doing just that.
In response to the Muay Thai-inspired range by Guess, one user simply stated that the brand was "tainting tradition". While it's true that some brands are appropriating aspects of Thai culture for fashion, one could argue that Versace and Guess aren't among them. Instead, some of those that are selling Muay Thai shorts for training could be considered guilty of this. Take these shorts from French company, Wicked One, for example.
This design replicates sak yant images in an apparent attempt to celebrate them. However, by placing them on shorts, the brand is unknowingly using them in a way that could be seen as inappropriate by some.
For Thais, the head is considered to be the most sacred part of the body, while the feet are the dirtiest. That's why touching anyone on the top of the head or pointing at them with your feet are big no-no's in Thailand. It's also why sacred objects like mongkol, prajiet and amulets must always be kept in high places. This same principle applies to imagery, and for that reason, placing sacred images below the waist is deemed offensive. When a British fighter wore these shorts to my gym, one Thai trainer shook his head and politely explained that he disapproved. With the language barrier, 'Buddha' and 'no' were some of the only words he could use to do so, but he made his point clear. As Sylvie von Duuglas Ittu wrote in a post about sak yant, certain sak yant can be placed below the waist. However, those depicting holy symbols or deities must always be placed on the upper body. "For this reason, location of the part of the body is important", she says.
In 2018, Sylvie made the same observations about these shorts, which were produced by an unnamed Italian company.
This principle is especially important where Buddha images are concerned. The Knowing Buddha Organization outlines this in a list of do's and don'ts on Buddha. Here's one item from the list:
MMA gear manufacturer Hayabusa Fight used the Garuda emblem —  Thailand's official royal seal — on a pair of Muay Thai shorts. This image can be seen on bank notes, on government buildings and documents, and at temples. It shouldn't be used for any kind of decoration, but plastering it across the crotch area is particularly offensive.
In the West, we may think nothing of putting a flag on a pair of shorts or shoes. We may even see it as an act of patriotism. However, this would have the opposite effect in Thailand. Last year, there was outrage on Thai social media over a picture posted on the Vogue Paris Facebook page, which showed a model wearing a pair of shoes featuring the same colours as the Thai flag. Reports stated that if anyone had made or worn the shoes in Thailand, they could face a fine of up to 2,000B, or even a prison sentence of up to a year. So, while the appearance of Muay Thai shorts on the catwalk hasn't received a public backlash in Thailand (the negative responses seemed to only come from farang Muay Thai fans), the specific usage of certain Thai imagery has.
Even Thai clothing designers can miss the mark. A collaboration between Bangkok fashion brands Fuxury and 24 Kilates illustrates that. Together, they worked with Twins on their 'Muhay Thai' collection in a nod to the roots of the sport. In that sense, it seems as though they're off to a good start. However, in their promotional photos for the collection, they veer away from tradition.
They include shots of a model who has a large image of Garuda tattooed on his chest. In the banner photo for the collection, a mongkol appears to have been placed on the floor.
The controversy over designer Muay Thai shorts begs the question — Are these brands any different from the Western Muay Thai brands producing their own training shorts for profit? After all, many of these designs aren't as traditional as you might believe.
Cover photo credit: Shun Watanabe
Follow Under the Ropes